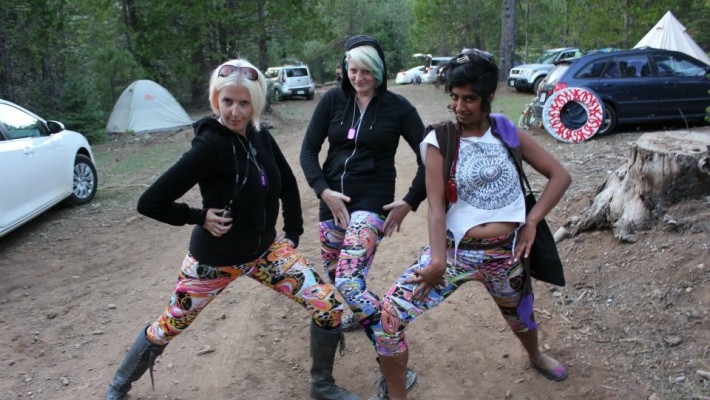 What's a creative writing contest without spandex?
Follow Revolva




Dazzle me with comments. Win the hottest leggings in East Oakland.
This evening, after a Fugu puffer fish snack and an 1811 Château d'Yquem facial spritzer, I rode my Swaravski-encrusted scooter down to the office wing to check on the progress of my new website. As it turns out, the team of designers I'd outsourced from southeast Asia — hadn't gotten the call inviting them to be outsourced, and so they therefore didn't exist.
Huggghhhh. Details!  It's so hard to delegate to one's staff. One must, however. If not, one would merely be a solo entrepreneur, with no employees at all, spending late nights eating popcorn out of a pie plate with a soup spoon, while designing and writing all one's own material, all by one's self. (I would never do this.)
On that note, in the spirit of delegation, friends, I would like to outsource the rest of this blog — to YOU. Below, you will find a creative writing prompt. Cut loose and use your imagination to answer this prompt in the comments of this post. You will be paid for your "adding to the entertainment of Revolva's blog" work in the opportunity to win some free stuff from my store. (Oh! And in exposure! Only fellow entertainers know the rich value of being paid in exposure.)
Wait — you have a store now, Revolva?
Yes, thanks for asking. I've been too busy dressing like Beyonce and hooping in a helmet for over 10 years to also manage a shop. Now, however, I'm shifting gears, and taking a cue from my "Do everything BIG!" approach to act building, I am not just opening any store.  I'm launching a ROCK-store, people! It has the best, most badass things, like this:
and this …
and these…
Soon, there will also be online hoop instruction, and a book, and — I might also start selling real estate and life insurance. No one knows how deep this could go!  Stay tuned to the Revolva Rock-store, to find out. It has hella funny captions, and it's the place to be.

So, how can I win the leggings, Revolva? Get to the point!
Ah, yes. The contest. I've laid my old blog to rest, after several years of hosting "The Revolvies" parody hoop awards and writing snarky posts with nearly 20,000 hits, because — well, it wasn't embedded in my site, and it wasn't adding to my SEO. Good riddance. (Does anyone have a tissue?)
So for the 5 people on earth who are still reading, I propose that you help me launch this new blog with an assignment that combines two of my greatest loves: writing heartfelt prose and wearing ridiculous outfits. I am going to give away a pair of free leggings from the best store in East Oakland, CA — Chavita's — to the person who answers this prompt in the most captivating way:
Q: If you nabbed a pair of the most badass leggings in East Oakland — what would your resulting alter-ego be called, and what would your super power be? Describe what you would do with this power.
Go!  Answer in the comments! The first person to wildly impress me (or to answer at all; note: chances of winning are 100 percent if you are the only one to comment) may join hooping and spinning legends such as Kenna (UK), Valerie from Sol Stix (Germany), Kev — of the French boy band staff spinning troupe No Sweat (France), and our own Aileen Lawlor (Oakland, CA), all of whom have been pressured into wearing have fallen in love with Chavita's.
What exact article of clothing do you win? It's a surprise, because it may be dependent on your body type and what will fit YOU. But check out the Revolva Rock-store and the photos below for examples. Please note, I will pay shipping in the U.S. only; if you're an international, and you have a way with words, you have to pay the leggings' plane ticket your way.
Answer by noon, Sunday, Aug. 18. On Monday, Aug. 19, I'll announce the winner.
And if you can't wait or don't want to write, go buy a jumpsuit right now. I picked out the best stuff for you!
Follow Revolva




Share This Post