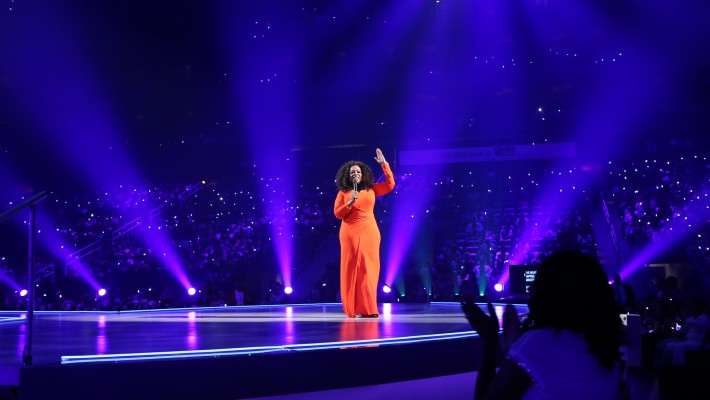 An open letter to Oprah, whose 'The Life You Want' tour asked me to work for free
Follow Revolva




To achieve the life you want, avoid situations that devalue your worth. Like when Oprah's "The Life You Want" tour, with its tickets priced up to $999, asks you to perform for free.

Dear Oprah:
No effing way. I could not believe it when a producer from Harpo Studios got in touch last week, asking if I could perform at your "The Life You Want" San Jose tour stop.  I mean, OPRAH WINFREY! I've always wanted to hear, "Welcome Revollllllvaaaaa," as I cartwheeled onstage, to tell you my life story—the profundity of all my lingering student loan debt causing you to weep and then declare to America that I am your new BFF. (Sorry, Gayle!)
And the title of your tour: The life you want? Um, hello! As a performer, writer and activist, I've spent 12 years taking a million chances, attempting to live in alignment with my spirit, rather than our toxic culture. I've spoken up as a survivor. I'm the female comedy act in a space helmet. You want me in your lineup, right? Your producer was totally calling to add me to  your list of "trailblazers," including Deepak Chopra and Elizabeth Gilbert, right?!?
Ah, but Oprah, you are a wise woman. I should have known that, in the phone call with your producer, there was a deep spiritual lesson in store for me. Here is our paraphrased conversation:
Producer: "Your stuff sounds great. Are you interested?"
Me: "Hell yes! Oprah! Oprah!"
Producer: "Okay, so just to be clear, you'd be on a stage outside the event. And, you know, just to be clear, Oprah will not be on that stage. Oh, and just to be clear, this gig isn't paid."
*     *     *     *
Dude. Okay. I have to admit that I was initially heartbroken that my name would not be bellowed with 800 extra vowel sounds. Fortunately, my heartbreak was soon short-circuited by the stroke I had when I realized your tour, with its tickets starting at $99 (for the homeless), middling out at $599 (for fast food employees) and rocketing to $999 (For 90s rappers)—featuring trailblazers who never have to dig through every compartment in their car for enough change to cross the Bay Bridge—would be ringing up local performers asking them to do their job for no pay.
The following image summarizes the situation: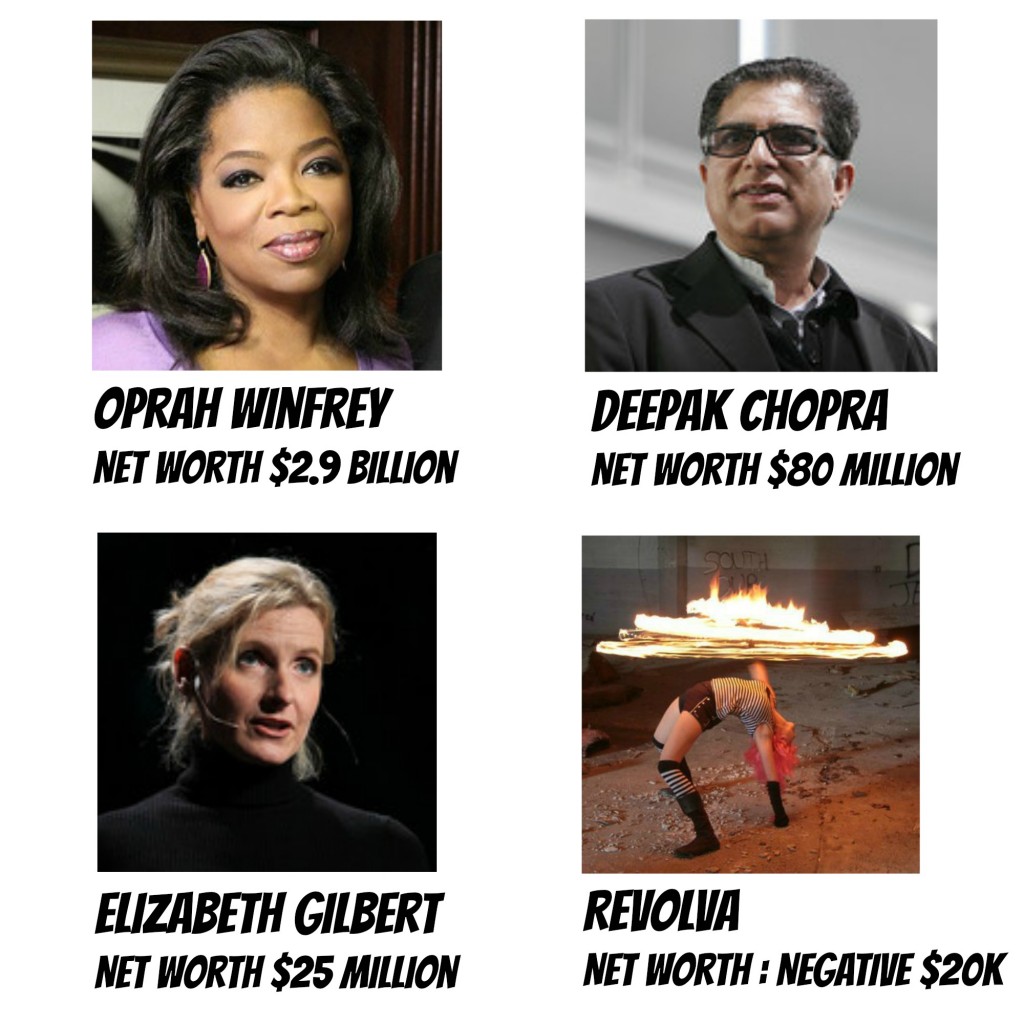 In one day, your arena tour (capacity around 18,000, each ticket $99 to $999) is raking in more money than most people will make in a year. In ten years. In their entire lives. And yet, your side stage, featuring local acts, is paying in that old tap-dancing, phantom promise of "exposure." As I was choking on my own tongue (stroke!), your producer also mentioned there was the added bonus of a ticket to the event. Unfortunately, her call coming just four days before your San Jose stop, I didn't have the whole weekend free. I also texted my landlord, and it turns out he does not accept rent payment in Oprah Winfrey tickets. Gah!
Since you are the most beloved person in America, I might be the first performer whose chakras twisted out of alignment when your blockbuster tour about living "the life you want" asked me to work for free. Your producer, assessing my hesitation, further explained that, "People started calling US, asking to perform, so we thought we'd add a stage for local acts."
I punched myself in the arm. Stupid, stupid! Why was I always asking the Forbes top 400 richest people in America if I could work for free? (Geeze, Revolva, stop being such an eager beaver! You have bills, girl!) And then, I remembered—I didn't contact you. I don't have your digits, Oprah. Last time I checked, even if it was to round out volunteers, your tour was contacting artists.
*     *     *     *
To be fair, working in exchange for cultural capital isn't exactly a new concept.
There's a time-honored precedent for the idea that artists can be paid in a resumé line. Lena Dunham, of Girls fame, and Amanda Palmer, of omg-she's-so-badass fame, recently launched contests for opening acts. Unpaid acts. In an era where "the 99 percent vs. the 1 percent" is top of mind, the Internet didn't respond kindly to Lena or Amanda's request for free labor. I suspect it's because there is simply no reason why well-off people, on extremely lucrative tours need free acts.
To that end, Oprah, my call with your producer resulted in me saying I didn't feel great about making a two-hour round trip commute, paying for gas and parking, and taking hours out of my day to do a free act, when the event is charging up to $999 per ticket. Could she see if there was some kind of budget so my outgoing costs wouldn't result in me losing money to perform?
Here, I would like to make a note. Your producer emailed back and said the tour could offer me a travel stipend. That was something. To be clear, it was something that most professional entertainers would charge to perform at a five-year-old's birthday party.  If any less beloved billionaire—Mark Zuckerberg or the Koch brothers—had asked Bay Area residents to work a $99 to $999-ticket event for free or (when pressed) for a small stipend, the response would be:
My question is: Should ANY event charging that much for tickets offer people the "opportunity" to donate free skills?
*     *     *     *
Criticizing the Oprah Winfrey tour is scary, Oprah Winfrey! I can already see the impending comments about how artists should be grateful to appear at your event (which, by the way, is certainly paying the going rate to the lighting people, the sound people, the caterers, the janitors, the people who erected the outdoor side stage, basically everyone except the local artists appearing on said stage). Folks reading this might not understand how much rehearsal time, equipment fees, booking time, advertising costs, etc. go into being an entertainer. The pay for a gig is payment for ALL those back end work hours. Here's a breakdown.
Also, it's pay toward a world that supports art. If we'd prefer to benefit from the work of all artists—not just those who are independently wealthy ("Let's experience art created only by Kim Kardashian!"), then the rates for someone's blood, sweat and tears have to be fair. Events that are netting a metric butt-ton of money are just being unethical to offer artists nothing—or free tickets—or a child's birthday party rates. And if that's what's happening, maybe someone should speak up and say, "Is this tour about how to achieve to your 'ideal life' REALLY going to rattle its tin cup and ask local artists for a free act?"
*     *     *     *
Back to that spiritual lesson you had in store for me, Oprah. Maybe it's because my car broke down, and I'm struggling. Maybe it's because I've been doing this for 12 years, and after all the requests for free or discount work, the one by a billionaire's tour was the straw that broke my back. But I thought it through, and achieving "the life you want" is not always easy.  The risks we have to take, to transform this culture into something more nurturing, involve looking at the way things are and saying, "Hey, wait. That's not cool!"
Even if we have to say that to Oprah Winfrey.
As a totally meta experience, your tour taught me that achieving the "life you want" might even involve holding the Life You Want Tour to its own mantra. So I asked if y'all could come up with a fair wage. Asking that question caused your producer, who had previously been excited about my "Single Ladies" hula hoop act, to go silent for 24 hours and then reply that she'd filled the stage (presumably with free acts), and she would contact me in the future at an event "with a larger budget."
I love your work, Oprah. I think you would've loved mine, too.

But, in the spirit of your own event: The life I WANT does not involve mega tours netting unfathomable amounts of real, tangible money, while local artists are coached to accept all or most of their payment in the least stable form of currency: exposure. If the "trailblazing" I do today is being an upstream voice, then I'll at least make a bold statement about the life I DO want:
I want a life in which people are not asked to work for free—by people who can totally afford to pay.



If you didn't realize your tour, with its wealthy speakers and its $99 to $999 tickets, was asking for a free service from local acts, is there something you can you do to make it right? On behalf of the artists of the world, that's a question I'll leave you with, Oprah. I'd like to believe that, as compassionate and generous as you appear to be, as a self-made woman who has been here, the life YOU want involves people being able to pay their rent.
I still hope to one day rock a stage with you. I'll just have to keep my cartwheel fantasy fresh for a tour that fully enfolds local artists under its own title.
Love,
Revollllllvaaaaa
* * * *
Like Revolva's work? Are you actually the Koch Brothers, Mark Zuckerberg or Oprah? Feel free to leave a tip! It's a greatly appreciated way to balance out how hard it can be to take a chance to put your art into the world. Thank you!

Header image: The Garner Circle PR LLC, licensed under Creative Commons 2.0 Generic.
New Worth image: Lwp Kommunikáció (Oprah), Maximum Mitch (Deepak), Erik Charlton (Elizabeth), Taymar LaRue (Revolva), licensed under Creative Commons 2.0 Generic
Occupy SF: Lily Rhoads, licensed under Creative Commons 2.0 Generic
Follow Revolva




Share This Post